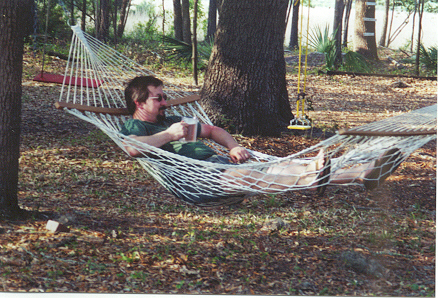 Welcome
This page is for those who would like to know a bit more about who (or what) I am. Reading this link is completely optional and totally irreverent.
I was born the poor, black son of immigrant sharecroppers.........
Ok, no, seriously,
I was born in Glens Falls, NY, the son of two merciless parents.......
Ok, so they weren't merciless, it's more like I never behaved, but aren't we supposed to blame our parents for everything we are?
Had a nice quiet upbringing in the ramshackle shed they kept me chained up in......
Well, that's not quite right, they did let me in the house now & then. Anyhow, wearing my rag-tattered clothes, I eventually headed off to military school at the tender age of 4 (they couldn't wait to get rid of me)........
Ok, so it wasn't military school, it was kindergarten, but I was 4 as my birthday falls late in the year. Being one of the youngest kids in my class was a challenge. I had to invent ways to avoid the bullies (of course they were all bigger than me).
Eventually, though, I suffered through it, even managed to take up wrestling in High School (best part was that I got to fight guys my own size), wasn't very good at it, but not everyone can be.
So, after that I tried to follow my girlfriend to college, where I was arrested for stalking......
Nah, she wouldn't have done that, but I did try college out for a year. I did ok, but the partying and drinking outweighed my interest in studying, so I eventually dropped out in favor of what I thought was a good idea at the time: the United States Marine Corp (begin laughing now)
This proved to be an interesting turn of events in my life. First off, it didn't take me six months to figure out that enlisting was a pretty dumb thing to do. But, now I was stuck for a four year hitch, so I figured I might as well make the best of it.
In between the continued partying (old college habits die hard), I did manage to get in some formal training in communications (I was in a unit called the "wire dogs"), electrical work, and troubleshooting, a skill that has sort of become my trademark.
After spending my last year eating rice and fishheads in Japan (Okinawa - Camp Hansen for those familiar with it), I returned to the real world, where it dawned on me that I was getting older, but not wiser (well, maybe a little). A few days after my discharge, I walked onto a construction site and was put to work hauling trash.
Thus begin a string of tedious jobs where I learned how to do all sorts of shit, which in the end wasn't so bad. I tried farming, construction, electrical jobs, pumped gas, painted warehouses, delivery jobs, shipping and receiving, blah blah blah..........
Anyhow, I ended up working as an Asst. Manager in a gas station, which means you do all the work while your boss gets all the credit, and a pay scale that works along those same lines......"Gee, you're doing good, but I can only get a 1% raise for you this year, they're cutting back the salary budget" (all this the day after he gets a new car........the only good thing that happened back then was meeting the future Mrs. Rogers (who non-coincidentally, was instrumental in the upcoming changes in my choice of careers).............
But here another twist happens, since I was making deposits at the local bank, one of the tellers noticed my ability to do currency conversions (I live near Canada, and we took in a lot of Canadian money) in my head. When they had an opening, I applied, and due to my "always pleasant" disposition, got the job. Boy, if only they knew.........
7 years later, after a string of promotions and a bit of luck, I was made branch manager. So here I am now, older, still no wiser, but I have a wonderful wife who tolerates my eccentricities, and my infatuation with computers. I see my children (two girls) pulling the same smart-ass stunts and being as devious as I was as a child. I guess what they say is true: "It'll come back and haunt you".